Learn Music and Audio Production | iZotope Tips and
Tutorials
iZotope and Machine Learning: Speeding Up Your Workflow with Assistive Audio
Technology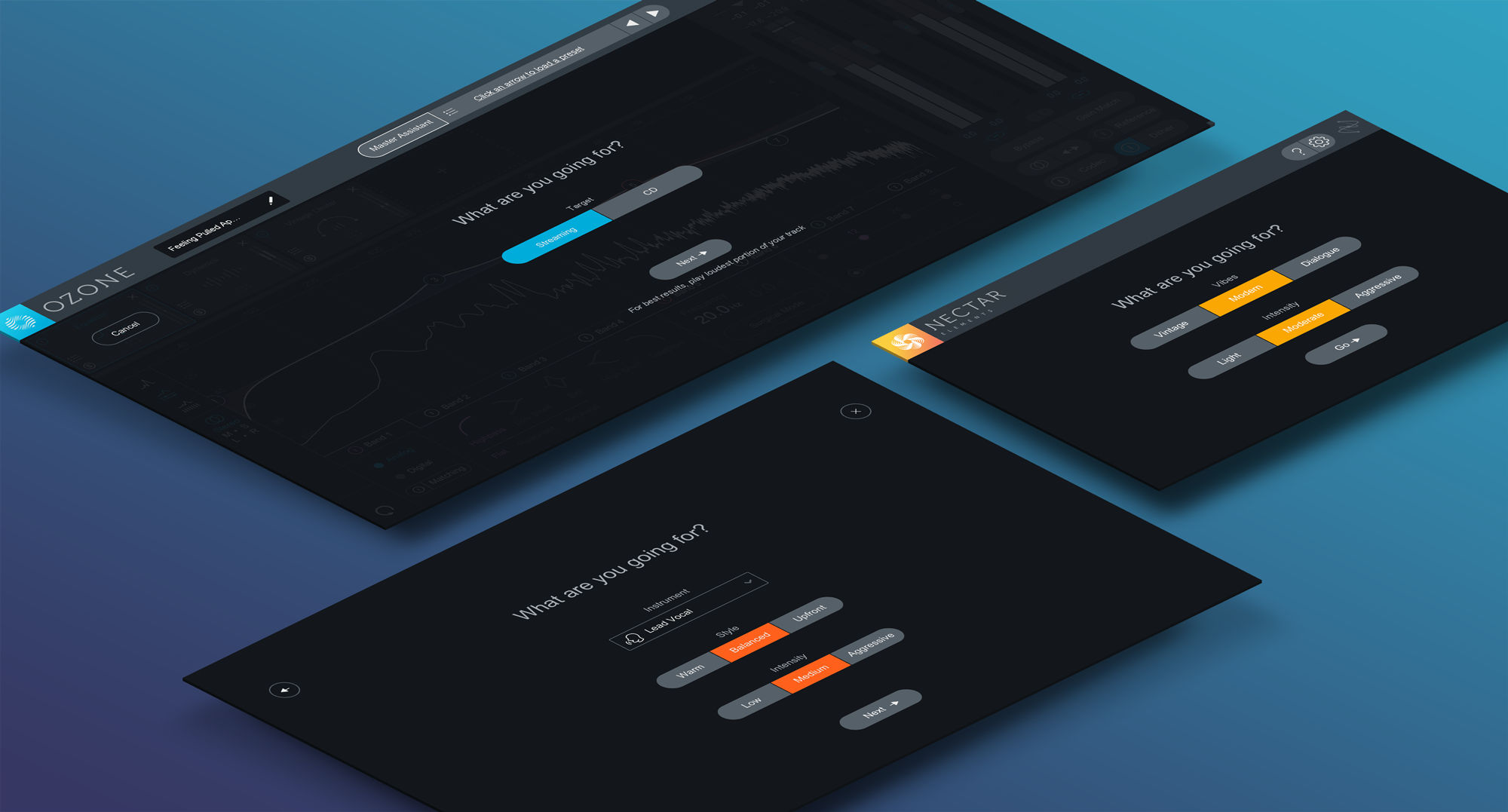 In a world where everything is due yesterday, there's an extra push to get things done faster. Thankfully, there are many ways to speed up your workflow and produce great quality work faster. Macro tools like Keyboard Maestro can help you automate mundane tasks in a way that allows you to get anything done with a push of a button, giving you more freedom to relax and/or create. But what many people haven't explored are the various ways of speeding up your audio work in the DAW itself with the use of smart plug-ins. 
In this article, I'll dive into the different smart tools that can significantly speed up your workflow and provide you with better and cleaner mixes, faster.
This article references a previous version of Neutron. Learn about Neutron 4 and its powerful features including Assistant View, Target Library, Unmask, and more by clicking here.
Assistive audio technology

Most of us are used to doing things manually. You add your own EQ plug-in and set up all the EQ nodes and curves to get the desired sound. You add an exciter to make the instrument pop more in the mix. Maybe you add a dynamic EQ to give it all a finishing touch. The end result is great, but you've just spent 10 minutes tweaking the individual plug-ins on this track. And, most likely, you have well over a dozen instruments that will need this type of basic processing. What if you could do all of the above in less than 30 seconds per track and achieve nearly identical (if not better) results? That's what assistive audio technology is for.
What exactly is it? Assistive audio technology intelligently analyzes your audio and provides custom-built presets that are tailored to the sound you're trying to achieve. It combines years of intelligent digital signal processing (DSP) algorithm development with modern machine learning techniques to analyze your audio signal and make the best possible suggestions.

Let's take a look at Track Assistant in Neutron, for example. When you open it up, it asks you what type of sound you're trying to achieve. It then asks you to play a portion of the song and gets to work analyzing the incoming audio. It inserts and engages the appropriate modules, including an Equalizer, Compressor, Transient Shaper, Gate, Exciter, and/or Sculptor. But where the magic really lies is in the fact that Track Assistant configures all the necessary parameters in each module individually, including thresholds, frequency nodes, gains, ratios, and input/output levels to allow you to achieve the result you're going for. All of that in less than 30 seconds!
Track Assistant in Neutron 3
Which plug-ins have an Assistant?
All of these (and so much more) are included in Music Production Suite. Each one of these assistants can help you achieve tremendous results in seconds, saving you a ton of time. This can be super helpful when a last-minute tight deadline project rolls in.
How do the Assistants affect my current workflow?
For anyone who's a seasoned mixing pro, there's always an element of resistance—and I totally get it. I was skeptical at first too. After all, we're talking about a pretty significant change in your workflow. So let me answer a few questions that have probably popped up in your head right away:
Since it's automatic, does that mean you can't change anything?
You can change anything you want. The Assistants prepare a customized preset to get you started. If you want to alter the sound in any way, you can dive into each module individually and make the necessary adjustments.
What if I want to use my own plug-in (say, an included-in-the-DAW or third-party EQ)?
No problem. You can always disable any of the suggested modules to your liking and use your own directly in your DAW. The great news is you can mix and match things as you see fit to create really interesting results based on your own needs.
For some further inspiration, I recommend you check out these tips for using iZotope's assistive audio technology.
Mix Assistant focus pane in Neutron 3
Inter-plugin Communication
Assistive audio technology can be a ridiculous time-saver, providing either a great starting point or ready-to-roll-out mixes that are clear and polished. But the goodness doesn't end there. It also works amazingly well on individual tracks. However, sometimes you need to work in the context of the big picture. That's why iZotope developed Inter-plugin Communication.
In multitrack recordings, the sound of each track interacts with the sounds of other tracks. In other words, hearing two tracks in combination is an entirely different experience than hearing each track individually. This is where Inter-plugin Communication comes into play: it allows the plug-ins to talk to one another, which effectively means they can hear what's happening on the other tracks to suggest or allow you to make better choices in crafting the musical experience.
Take Neutron 3's Mix Assistant for example. It uses Inter-plugin Communication to create a balanced mix, adjusting levels for each track to bring focus to those elements that you want to sit in the front of the mix. On the other hand, Nectar 3 Plus's Vocal Assistant Unmask feature will directly communicate with the rest of your mix to place your vocal at the forefront by moving other mix elements out of the way and carving out any frequency masking collisions.
Inter-plugin Communication also allows you to make adjustments to multiple plug-ins at once from the interface of one plug-in. Visual Mixer is a perfect example of this. It allows you to create a mix graphically, and each adjustment you make in the Visual Mixer automatically applies the appropriate gain, panning, and width changes on the relevant track, as long as it contains a Neoverb, Insight 2, Nectar 3 Plus, Neutron 3, Ozone 10, Relay, or VocalSynth 2 plug-in. Tonal Balance Control 2, on the other hand, includes integrated access to any instance of Neutron and Ozone EQs, allowing you to easily address your low end, dynamic range, and playback translation issues.
This is technology at its best. Less switching between plug-ins means you can do better work faster.
Which plug-ins include Inter-plugin Communication?
Neoverb
Nectar 3
VocalSynth 2
Neutron 
Relay
Insight 2
Ozone 9 
Tonal Balance Control 2
As before, all of the above are included in Music Production Suite. For some great tips on using Inter-plugin Connection in your workflow, check out this article. 
The takeaways
iZotope's intelligent plug-ins allow you to achieve amazing mixes in no time. Whether you're working on a tight deadline or just want to spend more time playing, assistive audio technology and inter-plugin communication are going to be huge time-savers. Put technology to work for you, you may discover it helps you create some of your best mixes yet.
We make innovative audio products that inspire and enable people to be
creative.