Tonal Balance Control
Pro
Tonal Balance Control Pro lets you overcome your listening environment and get a balanced mix that translates to your audience. Reference your track's frequency balance against 12 different genre targets based on thousands of professional masters, or upload your own audio file to compare to a unique balance curve. 
Tonal Balance Control Pro Highlights:
12 tonal balance targets
Works for pop, rock, EDM, R&B, hip hop
Upload your own reference track
Adjust gain of other iZotope Pro plug-ins
Adjust EQ of other iZotope Pro plug-ins

$199 value!
Access Tonal Balance Control Pro—only in Music Production Suite Pro
Overcome your
environment
View the overall balance of frequencies in your mix via a target curve derived from machine learning analysis of multiple genres and styles. No matter your listening environment, you'll always have a solid reference point for your sound.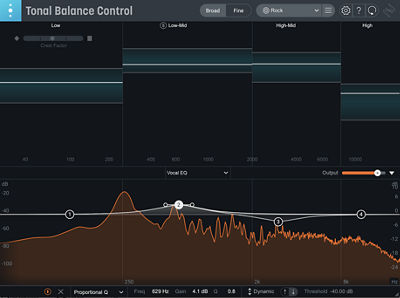 Find and fix
balance issues
Tonal Balance Control Pro can interact with other iZotope plug-ins in your session. If you're noticing issue in a specific frequency range, you can adjust track gain and EQ across multiple tracks from one plug-in window, and see the results instantly on your curve.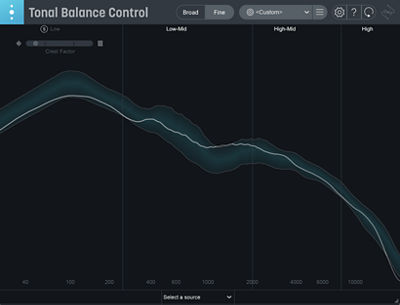 Upload your own
reference
Tonal Balance Control Pro comes loaded with preset target curves tuned to genres ranging from pop, electronic, hip hop, R&B, classical, and more. You can also upload your own reference track to see its unique tonal balance curve.
What's in Tonal Balance Control
Pro?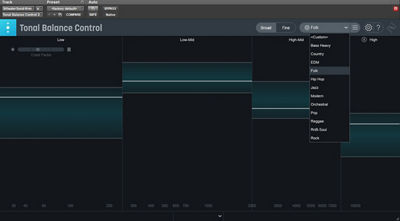 Tonal Balance Control Pro includes 9 new genre-cased targets, for a total of 12 curves. Now you can measure you tonal balance in styles like Jazz, R&B/Hip-Hop, and Pop. See how your music translates for top-50 radio play, or the classical crowd!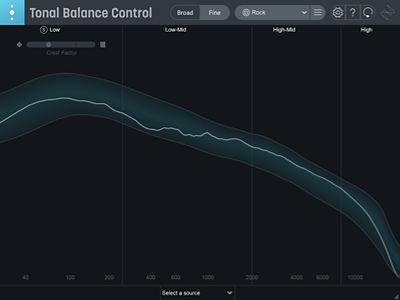 Use Broad or Fine view modes to get a different perspective on your tonal balance. Broad view measures the general balance between low, low-mid, hi-mid, and hi frequency regions to give you an at-a-glance picture. Fine view lets you zoom in to catch smaller balance issues in a more narrow range.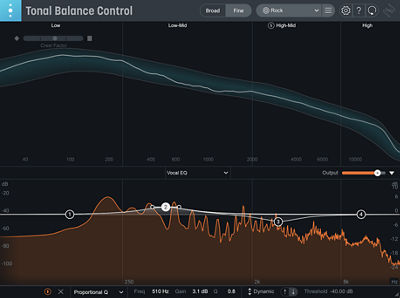 Inter plug-in
communication
Don't just identify balance issues, but fix them with inter-plugin communication. Tonal Balance Control can access the EQ and gain controls from a compatible iZotope plug-in like Ozone or Neutron, letting you line up your changes against your intended target.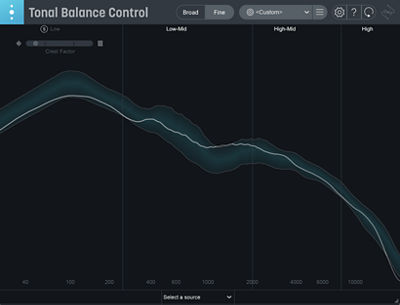 Load your own audio file and generate a unique custom curve, perfect for when you (or a client) has a specific sound in mind. You can also upload your own mixes to see what their unique tonal balance.