RX 10 is the most intuitive and intelligent version we've ever made. From analyzing audio capture and production issues to providing processing solutions, RX speeds up your editing workflow, salvages poor audio takes that were once unfixable, and delivers reliably clear sound quality.
RX 10's Spectrogram display allows you to quickly find noises and use a variety of tools to replace, attenuate, or remove offensive frequencies.
Next-gen Dialogue
Editing
Powered by machine learning, tools like Dialogue Isolate, De-rustle, Dialogue De-reverb, and Spectral Recovery give you unparalleled power to deliver incredible-sounding dialogue. 
Use RX Connect to instantly send your audio to RX directly from your DAW, so you can deliver amazing results quickly.
New in RX 10 for post
professionals
NEW!
Text Navigation with Multiple Speaker
Detection
Even if you love spectrograms as much as we do, navigating long dialogue files can be time-consuming, especially when seeking specific events in a recording. Now you can see what you hear with the new Text Navigation function. It analyzes dialogue and displays a text transcription above the spectrogram that's in sync with the corresponding audio. So you can now search for specific words in an audio file and also select and edit the recording using text. [This navigation feature will only be available in English for RX 10.] Using Multiple Speaker Detection you can even find and tag the sections of speech associated with up to 8 individual voices. This is incredibly helpful especially when different speakers require different processing. 
Save time removing unwanted hum with the new Dynamic Adaptive Mode in De-Hum. Get rid of hums and buzzes on the fly, without having to spend time learning the noise profile of your audio. Eliminating electromagnetic interference or other complex noise that changes pitch can now be done automatically without sacrificing quality.
UPGRADED!
Is your recording lacking highs and lows? Was it recorded on a mobile phone or using non-studio-grade equipment? Spectral Recovery can help to bring life back to thin-sounding audio to match the rest of your productions. The new version improves upon the quality of re-synthesized upper frequencies and can now add missing lower frequencies, too.
NEW!
Save time using  the new Repair Assistant Plug-in, which uses machine learning to find and fix audio issues quickly without leaving your DAW. The Assistant automatically recognizes specific problems and intelligently proposes a repair chain that you can modify to your liking with easy-to-use dials. More than just an upgrade of the previous Repair Assistant, this plug-in was built from the ground up.
IMPROVED!
Make smoother edits with improved Selection Feathering, which now also works in the frequency domain.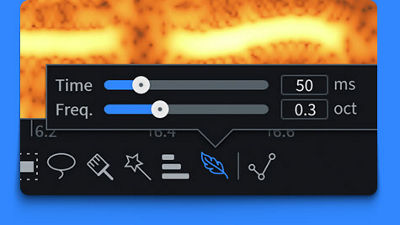 Popular RX features for
post
De-rustle
Remove distracting clothing noise from lavalier dialogue recordings and deliver intelligible dialogue with De-rustle.
Take the room out of the take. Remove early and late room reflections for clear, articulate dialogue with Dialogue De-reverb.
Adjust pitch nuances in your dialogue for the perfect performance. Add a pitch rise at the end of a sentence to form a question, or correct unnatural vocal fluctuations.
Bring fidelity back to your audio by restoring frequencies above 4 kHz, and turn grainy audio recorded over phone or video conferencing into clear, articulate recordings.
Process groups of files by using processing from any of the included RX modules. Save presets, import module chains, all in record time.
Get broadcast compliant audio for the latest standard in a single-click workflow for podcasts, audio books, and production audio.
"iZotope's RX has changed our lives in audio post to picture. The magic things it can do shouldn't be possible, and it's now an integral part of my fast turnaround
workflow."
BAFTA-nominated Dubbing Mixer, and Head Of Sound at Directors Cut Films, London
Sign in to see all discount and upgrade options. 
Which edition of RX is right for
you?
RX is available in three different editions designed to meet any budget or post production need.
RX Post Production Suite
7
RX Post Production Suite 7 gives you the tools you need to fix noisy production audio, bring stories to life, and send final deliverables at the right specifications. Now includes RX 10 Advanced and Neutron 4!
* = Available as a plug-in
** = Available as a Pro Tools AudioSuite