Learn Music and Audio Production | iZotope Tips and
Tutorials
9 Quick Steps to Start Recording with Spire
Studio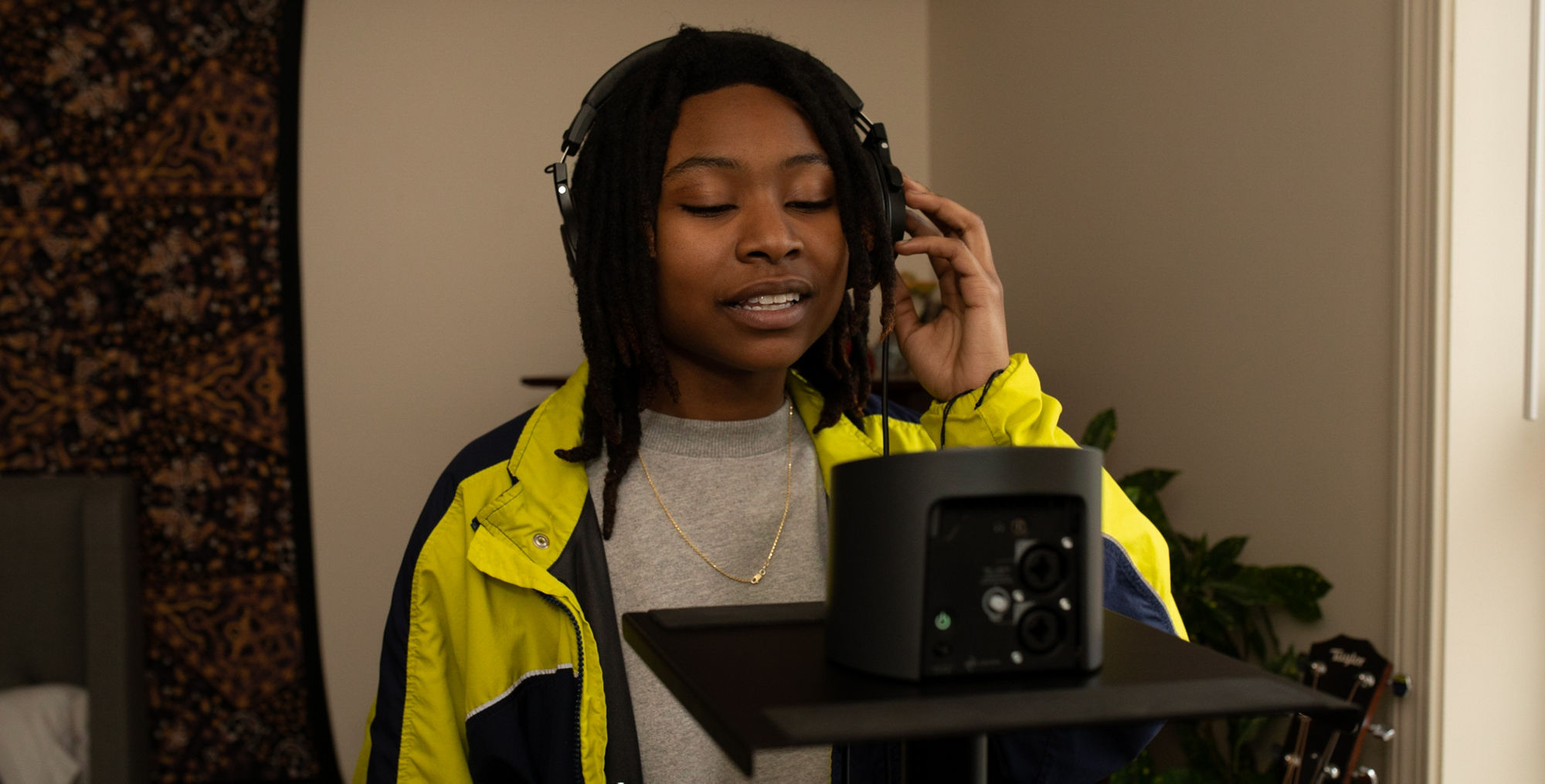 Pair Spire Studio with the Spire app for iPhone and iPad (iOS 13 or later) as well as Android devices 8.0 and later. For additional help using Spire, check out our Support Center.
Spire Studio is a portable, wireless, professional-quality mobile recording studio designed to keep you in the creative zone, making it the best alternative to booking expensive studio time and spending hours trying to figure out complex software and audio interfaces.  Simply use Spire Studio's built-in Wi-Fi network to pair with the Spire app, and start recording, editing, mixing, and sharing your music with the world.
Watch the short video above to learn how to use Spire Studio, and check out these quick steps to get started. (Plus, read iZotope co-founder and CEO Mark Ethier's introduction to Spire, where his idea for Spire came from, who it's for, and what's next.)
NEW: Unlock your free 6-month membership to Spire Pro when you purchase the Spire Studio (2nd Generation).
1. Pair Spire Studio with the Spire app
Welcome to your home recording studio. First, connect Spire Studio with the Spire app using Spire Studio's built-in Wi-Fi network. To do this, download the Spire app, tap "Using a Spire Studio" when asked during setup, and then follow the on-screen prompts for first-time setup.
2. Start your project
Get started by:
Importing an existing Spire project from a friend, who also uses the app
Importing a pre-recorded track or a beat in the app
Creating a project from scratch in the app
Tapping the "New Song" button on Spire Studio
3. Set your levels

Using Spire Studio, tap the Soundcheck button to automatically adjust input levels, and then play at normal volume for a few seconds. In the Spire app, you can also make manual adjustments by tapping on the input meter before recording and adjusting the input level slider according.
Soundcheck detects the instrument you're playing and uses this information to set input levels and sculpt your tone
PRO TIP: Spire Pro comes with Soundcheck Pro that offers crisp, consistent vocals for pro mic clarity. By listening to your voice and environment, it applies personalized processing to make sure your voice sounds clear and polished, no matter where you record. 
4. Add effects

With Spire Studio, you can record your instruments and vocals through classic amp models or with studio-quality effects (you can always record without applying an effect, too). 
Check out our blog on Spire Studio effects to learn more and hear audio examples.
Add effects including spaces, vocals, amps, and pedals to your vocals or instrument
5. Plug in and play anywhere
Plug your instruments into Spire Studio or use its built-in, studio-quality condenser mic. Spire Studio has two XLR/1/4" input jacks, complete with phantom power, allowing you to use your favorite studio mic or directly record with any instrument. With a four-hour rechargeable battery, you can record wherever your inspiration takes you.
Record wherever inspiration takes you
6. Record up to 8 tracks
Add depth to your song by layering up to eight tracks with Spire Studio multitrack recorder. Even if your recording environment isn't ideal, that's no big deal. The Spire Pro subscription even utilizes iZotope's award-winning intelligent audio correction. It reduces noise, clipping, reverb, and other unwanted characteristics so your music always sounds clear and present. The sky's the limit! Record vocal harmonies and vocal doubles, incorporate percussion and guitar, or add in some ambient noise to elevate the vibe. 
Record up to eight tracks in Spire Studio
7. Edit your song
Hold your finger on the playhead to enter precision zoom mode. Once the playhead is placed at the desired point in your song, you can trim the track to remove unwanted noise or create perfect loops. Just tap the undo button if you make an edit you don't like, and the redo button if you want to keep it.
Trim your tracks to cut off unwanted sounds at the end of your recording
8. Mix your song
Visually mix your recordings in the Spire app's Mix tab to achieve a well-balanced mix by positioning your tracks. Select wide or narrow effects to further polish your sound.
Move your tracks left to right to pan or up and down to adjust volume
BONUS: Use your Spire Pro membership to access to even more features like automatic noise removal, creative effects, royalty-free beats, and upgraded intelligent audio processing. 
Enhance
A professional sounding song also needs mastering to ensure that when layers (e.g. vocals, guitars, drums etc) fit together, with a good sense of space and emotional impact. This is where Enhance comes in. Enhance analyzes your audio and intelligently improves clarity and boosts loudness.
Below is a beat recorded using a Korg Gadget, a Yamaha Reface CS synth, and a drum machine. The three tracks were mixed in Visual Mixer, and then exported with and without Enhance on. The difference in clarity and loudness is easy to spot.
The Enhance feature intelligently searches the frequency range, low to high, hunting for any unpleasant characteristics in the signal. 
9. Share your song
Spire Project uploads your tracks to a link via the cloud to download individual tracks that a producer can use in a DAW, listen to mixdowns, offer time-stamped notes and creative input on tracks, and open Spire project files to collaborate on. Other options include sharing to social media, uploading to SoundCloud or downloading individual stems. 
Spire Project allows you to collaborate with producers or other musicians from your phone or computer
We make innovative audio products that inspire and enable people to be
creative.