get free NKS plug-ins from our
friends
For a limited time, our friends at Native Instruments are offering extra gifts with the KOMPLETE bundles, from our NKS partners Artistry Audi and Wide Blue Sound. Level up your sub game with Monolith's cutting-edge bass technology, dive into the organic pads and pulsing arpeggios of Elysium, and unlock authentic vocals, brass, and percussion from BALKAN Ethnic Orchestra – all NKS-compatible and ready to roll. This offer ends March
30.
Infinite bass with KOMPLETE 14
STANDARD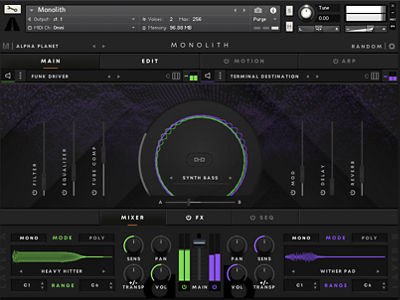 Monolith
Monolith is a limitless bass engine ready to propel your productions to dizzying new heights. Create with hundreds of heavyweight presets to quickly cut through your mix, or go under the hood to build bass tones that are all your own.
Get Monolith free with KOMPLETE 14 STANDARD.
Groundbreaking motion synthesis with KOMPLETE 14
ULTIMATE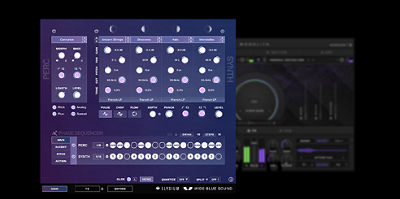 Elysium
Elysium is a powerful synthesizer and sound-design tool that combines organic pulses with a diverse range of beautiful, evolving sounds — from modern synths and classic keys to live percussion and even a full string orchestra.
Get Elysium and Monolith free with KOMPLETE 14 ULTIMATE.

The finest Balkan folklore with KOMPLETE 14 COLLECTOR'S
EDITION
KOMPLETE 14 COLLECTOR'S
EDITION
An all-encompassing production suite with almost everything Native Instruments has to offer, including pro versions of orchestral libraries, brand-new specialist composing tools, and a huge collection of Expansions.
250 products including new additions CHOIR: OMNIA, LORES, and more.

Access a huge collection of the finest folk instrumentalists from the Balkans. Balkan brass bands, vocal quartets, solo folk instruments and percussion allow you to compose an authentic Eastern European sound.
Get BALKAN Ethnic Orchestra, Elysium, and Monolith free with KOMPLETE 14 COLLECTOR'S EDITION.
Watch Reuben Cornell take a whistle-stop tour through the features and sounds of these three versatile libraries – from the speaker-busting frequencies of Monolith to Elysium's ambient pulses and BALKAN Ethnic Orchestra's traditional folk instruments.
*This special offer is valid from March 1, 2023 until March 30, 2023, at the iZotope Online Shop. The offer requires a qualifying base product to remain registered to your account. Should the base product for your KOMPLETE Update, Upgrade, or Crossgrade no longer be registered, additional costs may apply.