Nectar Pro
Now including the updated Vocal Assistant—only available in Nectar Pro
From corrective to creative vocal production all the way to the final polish, Nectar Pro brings out your intended performance in isolation and in the context of the mix. Nectar Pro includes the latest version of the Nectar plug-in, plus all future updates and enhancements as long as you subscribe!
Nectar Pro Highlights:
UPDATED: AI-powered Vocal Assistant
9 processing modules
Auto Level Mode
Dynamic & Follow EQ
Modern & vintage compression

Delay, chorus, & phaser effects
Harmony & doubler effects
Vocal reverb
Automatic Unmask mode
$249 value!

Access Nectar Pro—only in Music Production Suite Pro
Nectar Pro's Vocal Assistant makes mixing easy by analyzing the content of your performance and generating an effects preset form-fitted to the nuances of your singer and your music.
Put vocals in their
place
Through inter-plugin communication, Vocal Assistant Unmask will help place your vocal at the forefront of the mix, moving other competing mix elements out of the way automatically.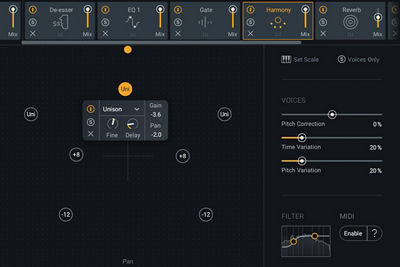 Nectar Pro is a complete vocal chain in one plug-in. Sculpt and polish your vocals with fluid and flexible EQ and compression, and create unique sounds with the Harmony, Dimension, and Reverb modules.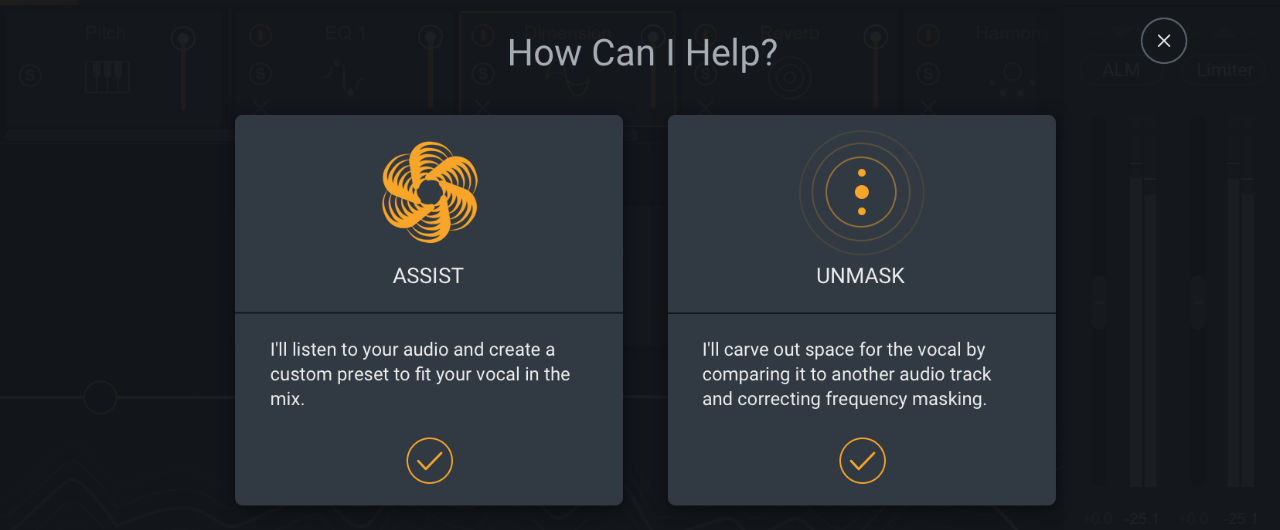 Like an extra pair of trusted ears, Vocal Assistant listens to your audio and gets you started by auto-adjusting for level inconsistencies, resonant peaks, timbre variations, and harsh frequencies. Unmask mode can talk to other compatible iZotope plug-ins to help clear space for your vocal.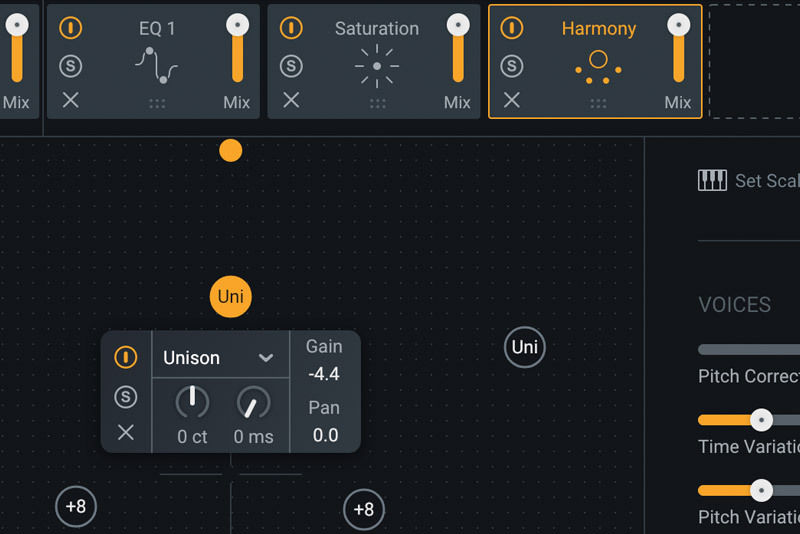 Harmony
Build vocal unisons and harmonies by creating and layering copies of your vocal track. You can add up to eight voices, snap them into scale, or control your harmonizations using a MIDI controller.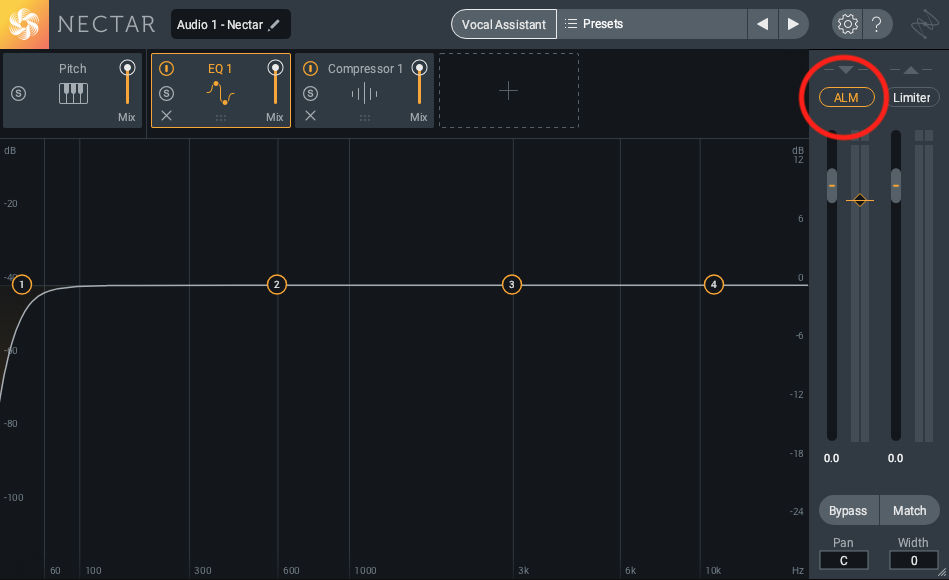 Auto Level Mode applies intelligent level correction to your vocal, keeping your performance on target and your processing free of unwanted artifacts. Just set your target level, and ALM will automatically adjust input gain to match.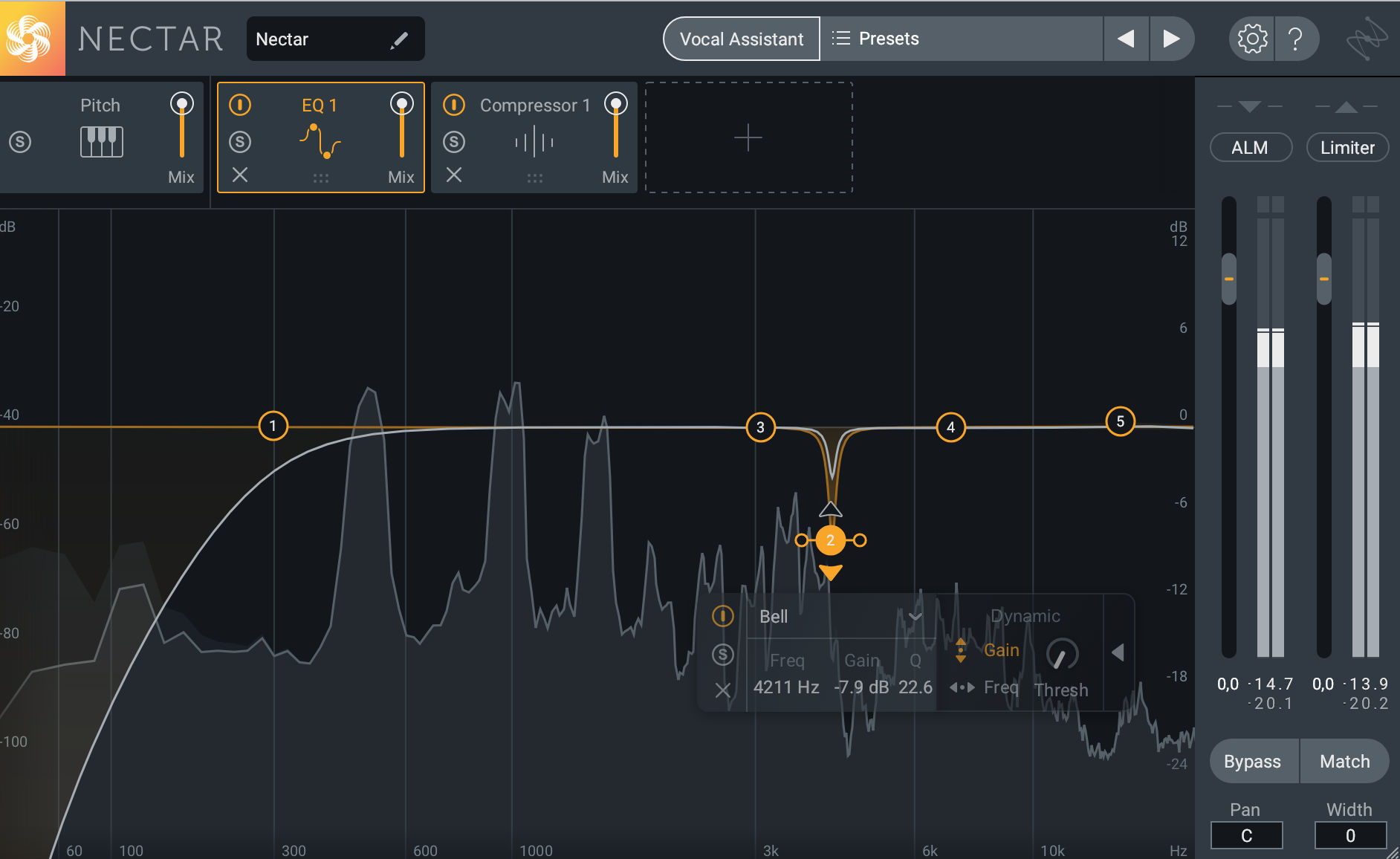 Equalizer
Nectar 3 includes two new 24-band Dynamic EQs form-fit to the unique needs of vocals. Follow and Dynamic modes help you sculpt and shape your vocal. Lock on to pitch to remove unwanted resonances and low end rumble, while preserving the natural character of your vocal!
Compressor
Maintain consistent levels and shape the character of your vocal with Nectar 3's two compressor modules. A large-scale UI lets you accurately assess the dynamics of your vocal, letting you know exactly where to set your threshold. Choose from four different models of compression to suit the needs of your session.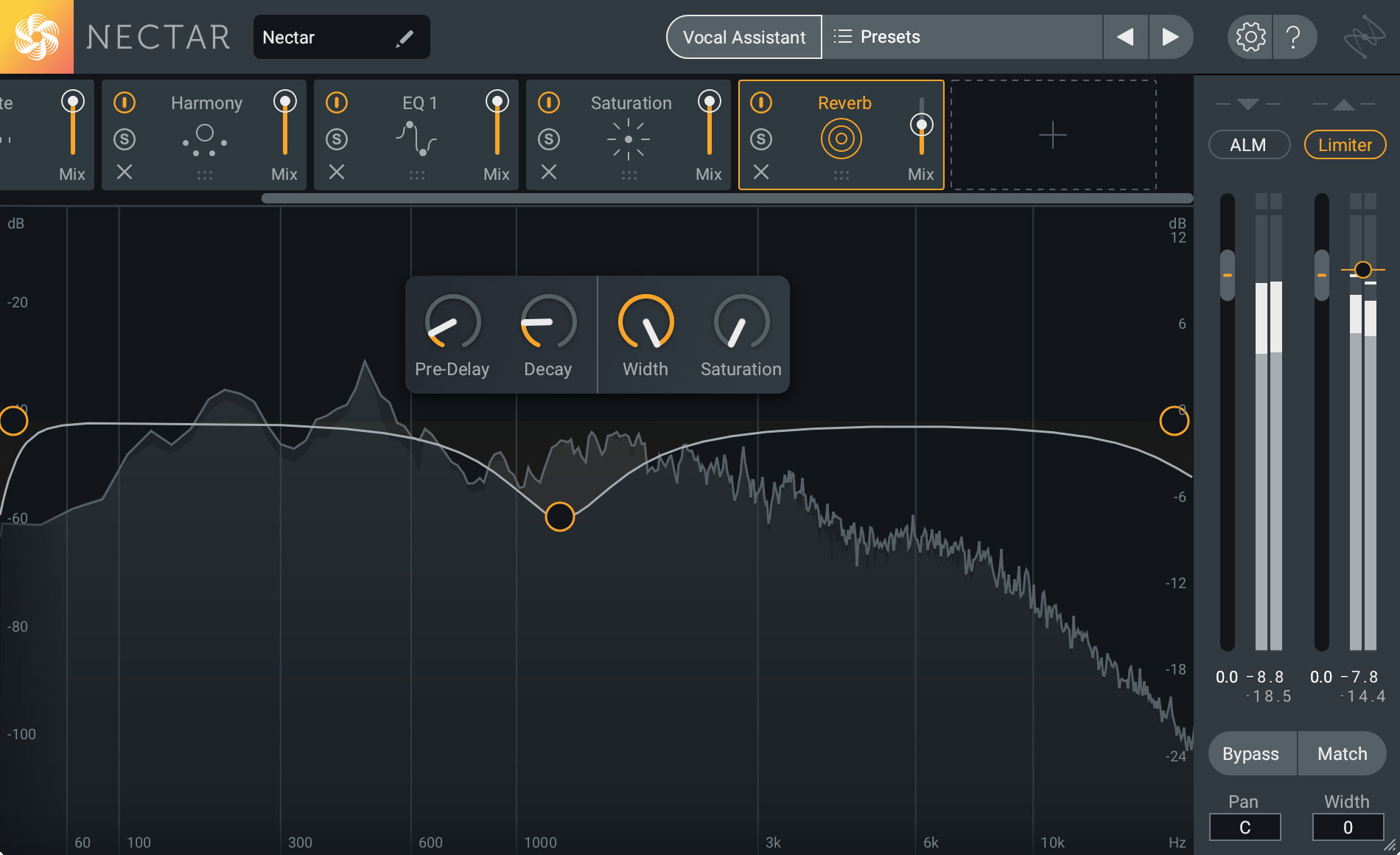 Reverb
Modeled after classic stereo plate reverbs, Nectar 3's Reverb module adds natural space and character to your vocal. Create subtle or extreme spaces by controlling stereo width and parallel wet/dry mix, or add texture, grit, and excitement to your reverb signal with the Saturation knob.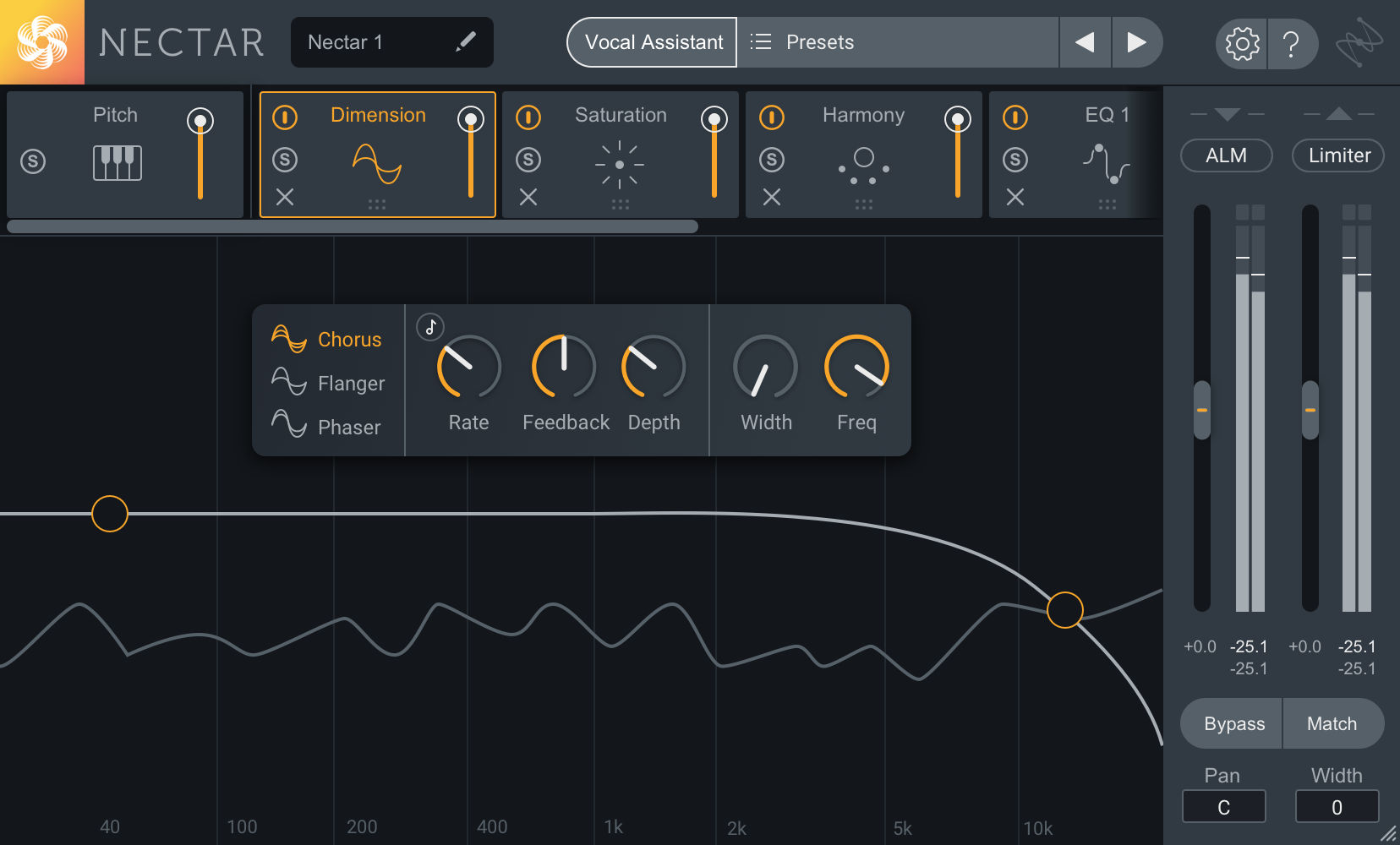 Dimension
Dimension gives you three essential vocal-shaping tools in one module. Chorus, Flanger, and Phaser allow for a range of subtle to wacky vocal sounds and are useful in a variety of different music genres, from metal to hip hop and everything in between.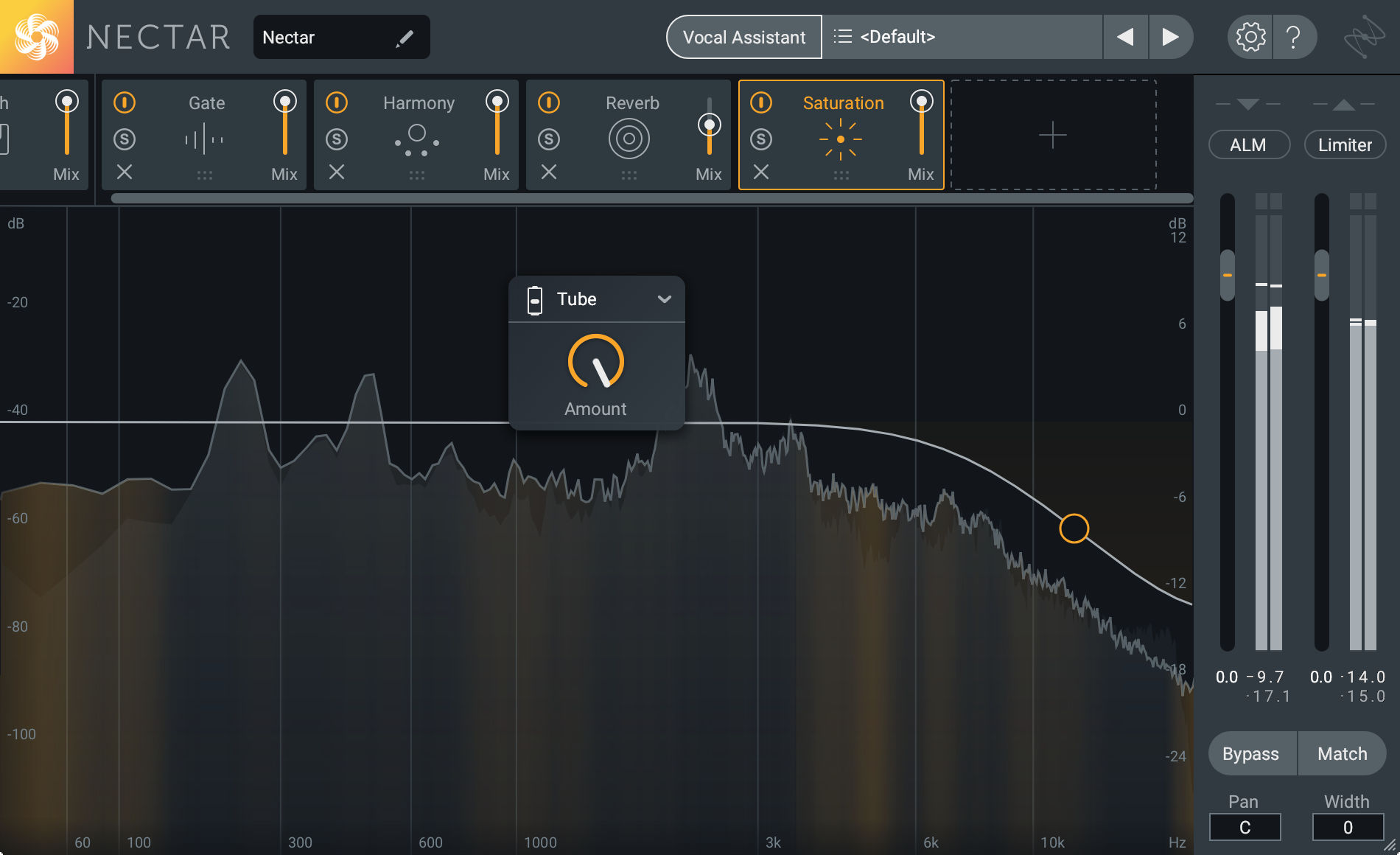 Saturation
The Saturation module features seven different saturation modes for adding unique flavor to any vocal, no matter the genre. Mix in subtle overdriven harmonics to make your vocal stand out in a pop mix, or drown it out with heavy fuzz distortion for your doom metal mix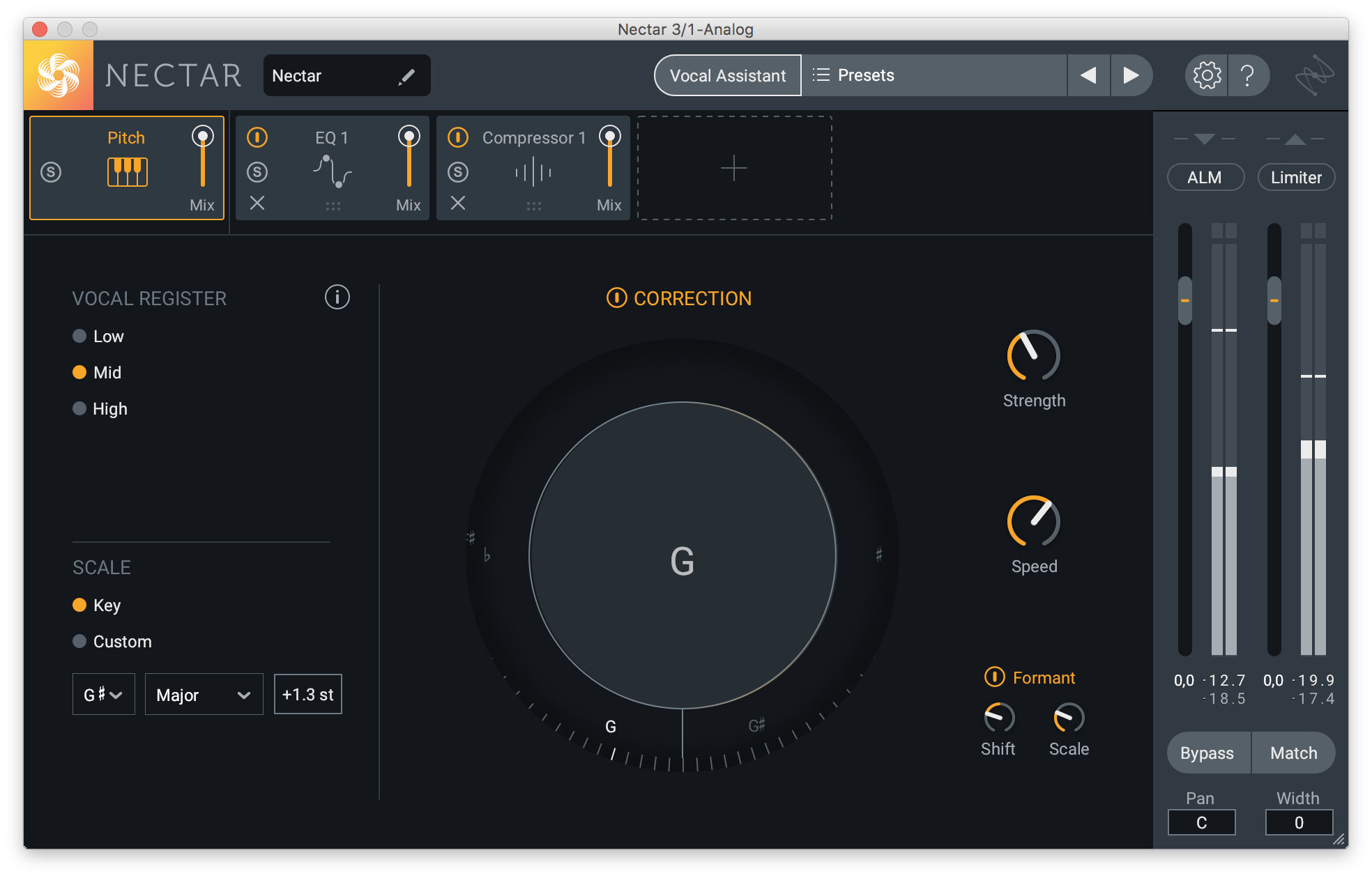 Pitch
Nectar 3's Pitch module offers accurate, transparent pitch correction as the first stage of processing in your vocal chain. Automatically detect the pitch register and fix out of tune vocal performances quickly with intelligent key detection powered by Vocal Assistant