Learn Music and Audio Production | iZotope Tips and
Tutorials
Welcome to Summer of
Sound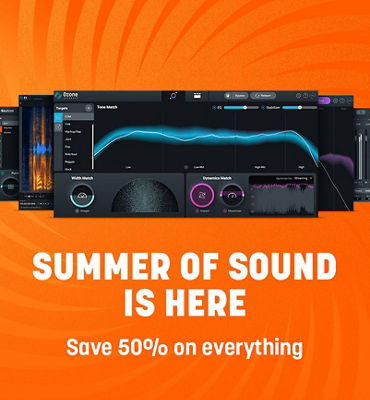 Sign up for our newsletter and get tutorials and tips delivered to your inbox. 
Are you ready to speed up your audio production workflow and expand your toolkit with the latest and greatest? Summer of Sound is here with one of the biggest opportunities to save 50% on essential upgrades for your studio setup. 
All of the latest versions of iZotope plug-ins are on sale now including Ozone, RX, Neutron, and more. Better yet, our friends from Native Instruments and Plugin Alliance are also offering 50% off (or even more!) on some of the most innovative products in the industry. 
We've got all the details below. 
Do you have previous versions of iZotope plug-ins? Get 50% off all upgrades when you log into your iZotope account. 
Get professional mixes and masters with innovative software from iZotope
Create pro mixes and masters with 50% off with industry standard plug-ins including iZotope Ozone 10, RX 10, Neutron 4, and more. With dynamic interfaces and AI-powered assistive technology, you can intuitively dial in your sound for any music production project, podcast, or video. 
Ozone 10
Achieving a professional master is faster than ever with Ozone 10. With the industry's most advanced mastering suite, you can add the final polish to your tracks and release them with confidence.
RX 10
RX 10 is the award-winning audio repair suite that helps restore, clean up, and improve recordings in post-production, music, and content creation used by professionals in TV, film, music, and more. 
Neutron 4 
Neutron 4 is the ultimate AI mixing experience that helps you achieve your sound easier than ever. Sculpt sounds seamlessly while staying in your flow with tools like EQ, compression, distortion, and more.
Audiolens
Make track referencing easy with Audiolens, the desktop application that collects and analyzes audio from any streaming platform or audio source. Build your personal library of reference tracks that you can access anytime to compare against your own mixes or masters. 
Do you have previous versions of iZotope plug-ins? Get 50% off all upgrades when you log into your iZotope account. 
Save big on Native Instruments best-in-class tools, instruments, and sounds
Are you a music producer, DJ, or composer who is looking to take your production game to the next level? Now is the perfect time to upgrade your setup with these summer savings. 
For a limited time, you can enjoy 50% off all software products*, including the most sought-after titles in our collection like KOMPLETE 14, KONTAKT 7, GUITAR RIG 6, MASSIVE X, TRAKTOR PRO 3, and premium genre-based sounds from Play Series and Expansions.
Already own a previous version of KOMPLETE, KONTAKT, or TRAKTOR? You can save 50% on all updates and upgrade paths available to them by logging into your My KOMPLETE Offers page.
*Excluding ICON BASS, VOCAL COLORS, Play Series FEEL IT, HIGHER PLACE Expansion, Play Series SWAY, HAZY DAYS Expansion, Play Series UTOPIA, and Native Instruments subscriptions
Start using the best audio production tools in the business for less
With the widest selection of cutting-edge tools and plug-ins to enhance your sound yet, Summer of Sound 2023 is the perfect time for both seasoned professionals and aspiring producers to level up your skills and expand your toolkit.
The Summer of Sound special offer is valid until July 6, 2023, at the Native Instruments online shop, the iZotope online shop and the Plugin Alliance online shop and at participating retailers worldwide while supplies last. Sale excludes iZotope subscriptions. 
We make innovative audio products that inspire and enable people to be
creative.