Learn Music and Audio Production | iZotope Tips and
Tutorials
Download Free Creative Suite Preset
Packs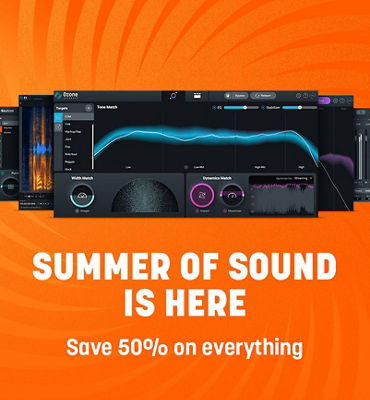 Sign up for our newsletter and get tutorials and tips delivered to your inbox. 
Download exclusive preset packs for Creative Suite product owners. Get access to even more exclusive presets and patches for all of our creative products!
Important notice: BreakTweaker, Iris 2, and Trash 2 are no longer available for purchase from iZotope. We are continually developing new products, services, and solutions to enable and innovate on journeys in audio production. We occasionally need to retire older products in order to focus our resources and development efforts on building new, innovative products and features. Support for these products will remain in effect for 12 months from your date of purchase up through October 27, 2023.
VocalSynth 2

15 new presets spanning subtle utility-like stereo widening to more wild creative effects with powerful harmonies and computerized voices.

BreakTweaker
10 new presets each containing 12 new patterns, ranging from minimal techno to trap!
Stutter Edit
10 new banks of presets each focused on a specific creative effect, including filtering, Lo-Fi, and more. Each bank is built with the same effect running at different measure divisions.
Iris 2
10 new presets covering leads, keys, pads, and basses, each with easy macro controls designed to give wide variations from a single sound.
Trash 2
15 new presets ranging from utility (e.g. beefing up a kick drum) to mixing (e.g. mix bus processing, bass guitar processing) to creative effects (e.g. vocal distortion and "Turbo Gain Guitars")

We make innovative audio products that inspire and enable people to be
creative.