Learn Music and Audio Production | iZotope Tips and
Tutorials
Exploring Vocal Effects in Spire
Studio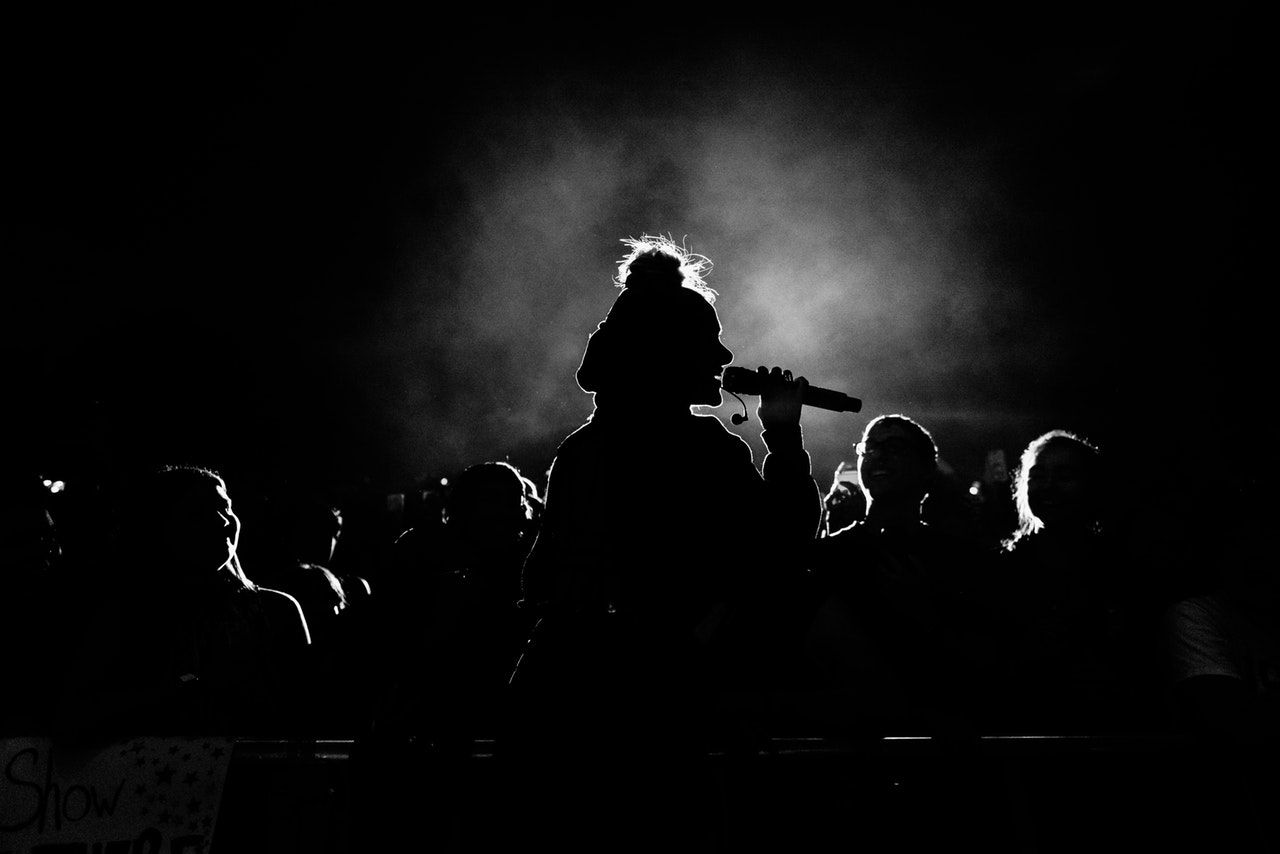 Voice plays an immense role in how music is perceived by its listener. Within the context of music, the voice elicits a kind of emotional or spiritual response using both melody and lyrics. These vocal qualities fuel a connection between the vocalist and the listener that keep us engaged in the music.
The purpose of using vocal effects is not only to add interesting textures to your sound, but also to inject your personality into your music—and doing so is much simpler than you might suspect. 
With Spire Studio, you have four new vocal effects at your disposal when tracking your project. Let's break them down.
Bright Voice is a clean vocal chain that uses a brighter EQ and a de-esser for clearness, and a short room reverb to slightly soften the tone. 
Warm Voice is a clean vocal chain with dynamic EQ control and an adjustable reverb toggle. 
Rowdy is a gritty vocal chain that features an adjustable distortion. With a slap delay and an adjustable "telephone" effect toggle, Rowdy adds a hard edge to your vocals. 
Wormhole has a time-synced tremolo, delay, and reverb, and is perfect for a weird, psychedelic vibe.
Now let's put these effects to use and find out what they're capable of. 
Bright, Rowdy, Warm, Wormhole—which effect is for you?
Bright Voice

If you're a pop vocalist, rapper, or a vocalist looking to elevate their voice from a loud mix, Bright Voice is a great option for you. Its bright EQ setting and de-esser give the vocal tone a sharp, punchy quality, but the added short room reverb softens the vocal chain, which allows it to relax more in the mix.
Take a listen to the Bright Voice vocals in our own example:
A track as busy and big as this one deserves a vocal lead that can reach above the mix and stand on its own. The added high end EQ that Bright Voice provides gives vocal tracks a distinct edge while the room reverb alleviates any excess mid-range bite. For mixes as robust as the one above, try increasing your microphone input level and turn the reverb toggle all the way up to get a vocal sound that brightens up your overall mix.  
Warm Voice
Warm Voice is the oldest and most universal vocal effect that Spire has to offer. It's a simple, clean vocal chain with an adjustable long reverb and warm EQ setting that makes vocals feel clear, inviting, and professional. 
Vocalists of all styles will find a use for Warm Voice, whether you're a singer/songwriter, a topliner, or even a spoken-word artist.
We used Warm Voice in a delicate singer/songwriter environment here:
Adjusting the Character toggle will change the EQ of your vocal. With the toggle turned off, your vocal will sit in a mid/high EQ range; turning the toggle all the way up will add in some mid/low-range EQ that will add warmth and depth to your vocal. To control the amount of long reverb, adjust the Amount toggle.
Rowdy
Looking to create chaos in your vocal tracks? Want to dirty up your lead vocal? Want to sound like a '90s rock star? Then Rowdy is the effect for you. 
Rowdy uses distortion and a slap delay that gives your vocals a crunchy, distorted effect. Use the adjustable "telephone" toggle to squash the vocals even further while additionally adding some clarity with a bright EQ boost (this effect is also great for rappers who use vocal multitracking for call and response, or character voices). Rock singers and MCs will find a lot of use in this dynamic effect.
Our own example below uses Rowdy in a noisy and heavy rock setting.
The track's lead vocal track uses the effect with the distortion toggle cranked to the max. The two background harmony tracks make use of the telephone option which adds a kick of high EQ precision.
Wormhole
Easily the weirdest of the vocal effects, Wormhole is designed for vocalists who want to take their vocals into outer space. Complete with a time-synced tremolo, delay, and long reverb, Wormhole elongates your voice and makes it feel saturated and deep in the mix. 
Psych singers, experimental vocalists, or any fan of interesting vocal sounds will enjoy the interstellar tones of Wormhole. 
Listen to our own laid-back psych jam for reference.
Along with the additional stereo field space provided by the effect's reverb and delay, Wormhole also adds a comfortable mid/low end to vocals. The combination of EQ and wet effects make this effect a go-to for songs with textures that fall into a high-range EQ.
Conclusion
Spire's new vocal effects cover all the bases of vocal production: Bright Voice has clarity and punch, Warm Voice brings depth and body, Rowdy dials up the crunch, and Wormhole adds space and saturation. Whether you're a versatile vocalist, a passionate podcaster, or a spitfire MC, Spire's vocal effects and their adjustable tone options and built-in EQ settings will elevate your project from demo to total pro.
We make innovative audio products that inspire and enable people to be
creative.