Learn Music and Audio Production | iZotope Tips and
Tutorials
Exploring Spire Studio's Classic
Stack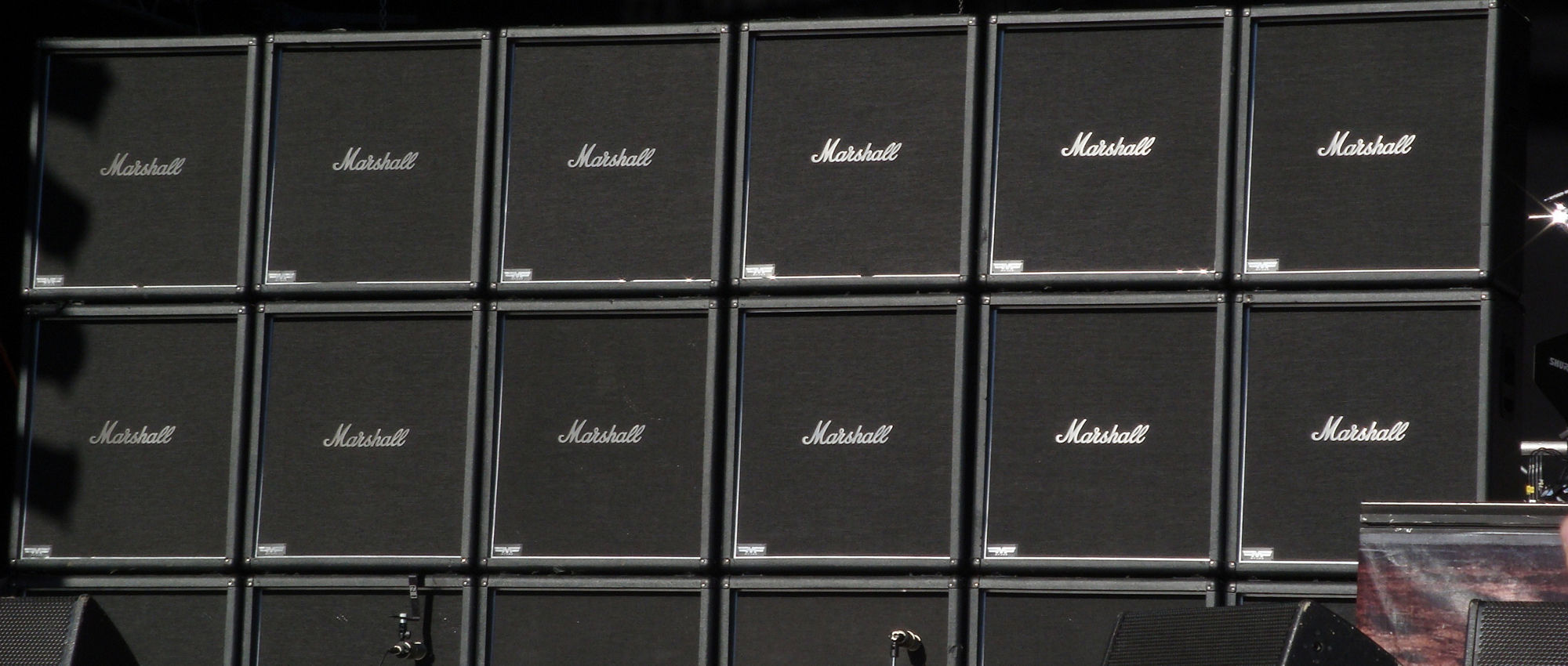 Record high-quality vocals
anywhere:
Sign up for our newsletter and get tutorials and tips delivered to your inbox. 
The legacy of rock and roll in the 1970s is one of guitars and amplifiers. Guitar greats from that era—Page, Clapton, Gilmour, etc.—their signature performance style and guitar tones are what stick in our memories. While their guitars allowed for a more nuanced flavor, their amplifiers are really what solidified their signature sounds. 
There is nothing more 1970s-rock-and-roll than a big amp stack. Having the speaker cabinet/amplifier combination was an immediate indoctrination into the world of rock music. The amplifier provided a great deal of power that a simple combo amp could not. Guitarists like Eddie Van Halen and Angus Young used amp stacks that gave them enough power to trail blaze the game with some iconic solos.
Until now, Spire Studio had a delta between subtle and maximum overdrive in amp simulators. Classic Stack, the newest recording feature in Spire Studio, is a solid distortion option that emulates the classic sound of a retro amp stack. It can be used for just about anything that calls for some crunch, and can range from a lightly driven rhythm track to a screaming guitar lead.
Much like a real classic amp stack, Classic Stack keeps the tone options simple and effective. With virtual knobs for bass, treble, presence, reverb, and drive, Classic Stack can fulfill a wide range of driven guitar tones, from hard rock, warm rhythm parts, or ripping leads. Let's take a closer look at how high the Classic Stack can soar.
Classic amp stacks
Hard rock
A big amp stack was originally intended to give guitar players maximum power and gain, and Classic Stack is no different. Its purpose is to emulate the powerful overdrive of classic amp stacks, so it is preferred for music that leans towards a harder, more aggressive sensibility. 
The example below is stylistically hard rock with pounding drums and a crunchy bass line. All of the guitars in the example are using the Classic Stack, and each one has the drive turned all the way up. Take a listen.
Classic Stack fills up a huge amount of space in the stereo field without getting too muddy. The parts are well-defined but overdriven and heavy. Below are the settings used in the example.
Hard rock settings
Download the Hard Rock Spire session file directly to your iPhone or iPad, and explore the mix in the Spire app! Spire Studio hardware is required for projects to open on Android devices. 
Warm rhythm
While hard rock is an ideal way to use Classic Stack, the dynamic range of the amp simulator is wide enough to bring the drive down, while still maintaining a warm tone. Turning the drive off in Classic Stack simply eliminates any extra distortion; the warm quality of the amp remains intact. 
Below is an example of the Classic Stack with minimal drive. Both lead and rhythm guitars are on the same settings, however the lead guitar has slightly more reverb added. 
In this low drive function, Classic Stack is an excellent alternative to other warm amp simulators, like Tone 30 or the Capratone Pedal. It's a no-frills amp simulation that feels warm and powerful.
Warm rhythm settings
Leads
Classic Stack is ideal for any big leads or riffs. The bass/treble balance, the drive option, and the reverb that are provided in Classic Stack can turn any riff into a bonafide lead. Just take the example below; all of the guitars are using the same settings in Classic Stack.
Keeping the drive turned up halfway or more will ensure a strong lead tone that can cut through a mix. Add some reverb to create more space in the stereo field.
Settings for big leads
Download the Leads Spire session file directly to your iPhone or iPad, and explore the mix in the Spire app! Spire Studio hardware is required for projects to open on Android devices. 
Conclusion
The purpose of an amp stack seems pretty singular: provide as much power and gain for the guitarist as possible. While power and gain are plenty bountiful in Classic Stack, there's plenty of softer, warmer, and wetter tone options available with a few minor tweaks of the virtual knobs—just try not to blow out the windows with this awesome amp simulator. Don't forget to check out what else is possible with Spire's amp simulations.
We make innovative audio products that inspire and enable people to be
creative.